Education in the MENA Region: Challenges and Opportunities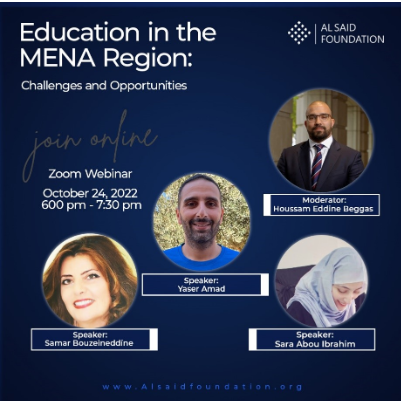 When
---
October 24, 2022
---
6:00 pm – 7:00 pm
---
---
Where
---
Zoom Webinar
---
Join us for a panel event on Education Challenges and Opportunities in Middle East and North Africa hosted by the Al Said Foundation. Drawing on data from ten sample countries across the MENA region, a study conducted by Kinda Mouchbahani analyzes the role of governments, private institutions, international and domestic NGOs in standard education in the MENA region. This event will touch on the impact of legal frameworks, infrastructure challenges, regional conflict, and the COVID-19 pandemic on school enrollment, quality of education, and student retention rates in the Levant, the Gulf, and North Africa.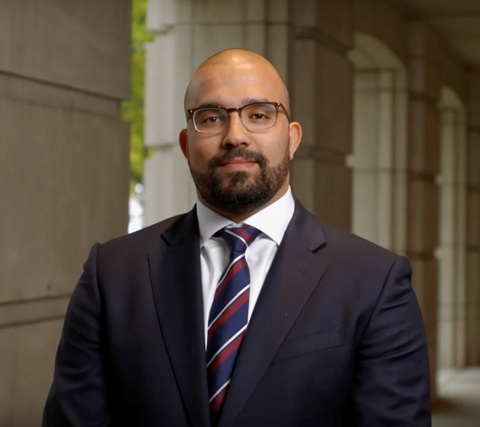 Houssam Eddine Beggas
---
Journalist
---
Moderator
Houssam Eddine Beggas is an Algerian journalist and communications consultant based in Montreal, Canada. He is the author of the forthcoming book entitled: Algeria's Hirak Protest Movement: Media, Democratic Change and Human Rights. As a Fulbright Scholar from 2018-2020 at Seton Hall University, he earned a master's in diplomacy and International Relations and was a co-editor and contributor to Seton Hall's Journal of Diplomacy. He was a Research Assistant at the Seton Hall's Center for Peace and Conflict Studies where he focused on dynamics of post-Arab Spring conflict resolution, particularly in Libya and Yemen. Prior to this, he was a communications consultant with the World Bank in Algeria and advised on projects with the Algerian government. He was the creator and lead anchor of El Djazairia TV's "Pulse of the World," a regional news and current events show. Houssam has extensive reporting experience, including as a sports news anchor with Numidia News, Stade News, and the online outlet Tout Sur l'Algerie. He earned his Bachelors in Interpretation and Translation from Constantine University in 2012, and a Master's in Journalism and Communications from the Higher National School of Journalism of Algiers in 2016.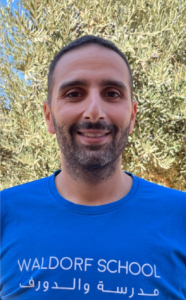 Yaser Amad
---
Founder and General Principal of the Waldorf School of Jordan
Yaser Amad is the Founder and General Principal of the Waldorf School of Jordan. He holds degrees in philosophy, education, and English literature from Stanford University, The University of Texas at Austin, and the Harvard Graduate School of Education. After years of research, publishing, and teaching at the university and post-graduate levels, he returned to his native country with the dream of bringing the Waldorf education experience to students in Jordan. He is currently working to ensure that an educational environment of love, creativity and genuine engagement reaches as many students as possible--via a school dedicated to protecting and promoting the wonder of childhood. In addition to leading the Waldorf School of Jordan, he serves on the board of the Mohammad and Mahera Abu Ghazaleh Foundation for Arts and Culture (MMAG), the influencers' board of the NGO Right to Play, and supports the work of various other initiatives in the arts-and-culture field.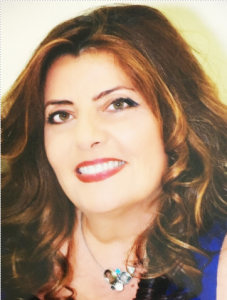 Samar Bouzeineddine
---
Senior instructor and an academic researcher
Samar Bouzeineddine is a senior instructor and an academic researcher in the Education Department at Modern University for Business and Science (MUBS) in Lebanon. She has joined the university to be involved in Education and Teaching Diploma programs since 2015. In 2021, she was a speaker at the Rethinking the Curriculum in Lebanon and the Arab World: Reconciliation Ideologies and Pedagogies Conference at the Lebanese American University to present a research study on The Integration and the Impact of Environmental Education in School Curriculum in Lebanon. In 2017 and 2018, she was a speaker at Mount Lebanon Professional Development Conference presenting training workshops. From 2012 to 2015, she joined the Center for Continuing Education as an InService Teacher Training instructor presenting workshops for 21st- century teachers and coordinators. Formerly, she was a High School English Language teacher/coordinator and a leader of the Communication & Continuous Professional Department at private schools (AlManar Modern School & Irfan High School).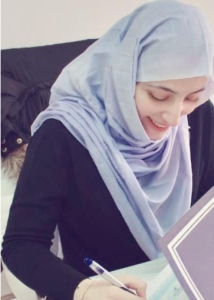 Sara Abou Ibrahim
---
Specialized in Science Education
Sara is specialized in Science Education with a main background in Physical Chemistry and Chemistry of Materials. She is an experienced and dedicated educator whose work is focused on Science curriculum development and design, science teacher training, and on integrating ICT into learning science to leverage the digital skills and science communication skills among the teachers and students as well. With a Master's degree in Science Education and a Master's degree in Physical Chemistry and Chemistry of Materials, and being currently an instructor, an academic coordinator, and a representative for the research department at the Modern University for Business and Science, Sara works on creating meaningful learning approaches for science education students using credible learner-centered pedagogical methods, focused on enhancing the understanding and the capability of communicating science concepts from a practical perspective.